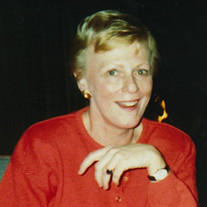 Ann Therese O'Boyle, Waldorf, Maryland, died in the Hands of the Lord on February 27, at Charles Co. Regional Hospital, surrounded by her loving family, following complications from chronic respiratory problems, Ann was a retired nurse and a valued member of a large Irish American family.
Born in 1937, in Scranton, Pennsylvania, the daughter of Dr. and Mrs. James P. O'Boyle, Ann was educated at St. Mary School, Dunmore, at St. Paul's High School and the Mercy Hospital School of Nursing, Scranton.
Ann was a dedicated nurse , working at the Maryland Veterans Hospital and in the ER at Southern Maryland Hospital, Clinton, where she established many close friendships. In retirement she did a variety of volunteer work ranging from health-care assessments at St. Peter's Church, Waldorf, to tutoring recent immigrants. She was a long-time member of her parish prayer group, whose friendships she valued greatly.
Ann said that her greatest contribution though was her total involvement with her large extended family, scattered from Virginia to Pennsylvania and Connecticut,. Ann had 98 nephews and nieces and knew the life story of each one. She followed the careers of each and was the official family biographer and presider at numerous family reunions. She was indispensable at annual family vacations at lake and shore, adding to the merriment with Irish wit and family tales from the past.
She leaves two cherished sisters, Margaret Kelley, Harding, Pennsylvania, and Marie Fanning and her husband William Fanning, Alexandria, Virginia, and her brother, James O'Boyle, Windsor Locks, Connecticut. Also, surviving are her close-knit and beloved nephews and nieces.
Ann's family would like to thank the dedicated third floor staff at Charles Co. Regional and all who supported her through years of medical problems. Special thanks to two cherished friends, Kathy Kamrath, Easton, Maryland, and Cindie O'Brien. R.N. and her husband Tom, of LaPlata, as well as good neighbors Karen Allison and Rhoie and Felicity Manney and Elaine Stewart.
Visitation will be on Saturday, March 10, 2018 from 9:30 AM until time of Mass of Christian Burial at 10:30 AM at St. Peter's Catholic Church, 3320 St. Peter's Drive, Waldorf, MD 20601. Interment will be at a later date in Windsor Locks, Ct.
In lieu of flowers, please send contributions to Pennsylvanians for Human Life, 400 Wyoming Avenue, Suite 110, Scranton, PA 18503.
. . .because You have hidden all these things from the wise and the learned and have revealed them to Your little ones. (Matthew 11:25)