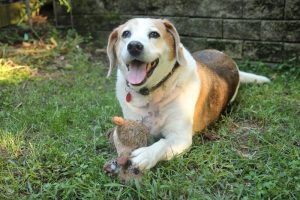 Wednesday's Pet for 3/7/2018 HUCKLEBERRY    
Featured Pet: Huckleberry
Rescue Group: Beagle Rescue of Southern Maryland
Breed: Beagle
Sex: Male
Size: Medium (55 lbs)
Vetted: Neutered and Up-to-date with routine shots
Adoption Fee: $300.00 Donation
Huckleberry is an easy-going, happy, sweet fella.  He loves to go on walks and is good on a leash.  Huckleberry gets along well with other dogs and kids. He LOVES squeaker toys, balls, and bones.  He has not had any accidents in the house with his foster family.  He does require thyroid medication and joint supplements for arthritis.  Other than that, he is very healthy and very active. Huckleberry is at the stage of life where he can cuddle and take a nap, but still loves a good walk outside. He is so sweet and easy to love.
If you are interested in Huckleberry, please fill out a Adopter Profile at: http://beaglemaryland.org/Home.aspx?pg=adoption.htm and email it to [email protected] for any other questions please see website here: http://beaglemaryland.org/home.aspx
A little bit of breed information:
The Beagle is a hardy little hound dog.  The Beagle is loving and gentle, and happy to see everyone.  Beagles are sociable, intelligent, and excellent with children.
"He is your friend, your partner, your defender, your dog. You are his life, his love, his leader. He will be yours, faithful and true, to the last beat of his heart. You owe it to him to be worthy of such devotion."
– Unknown