Reduces Congestion and Improves Safety on Heavily Traveled St. Mary's County Roadway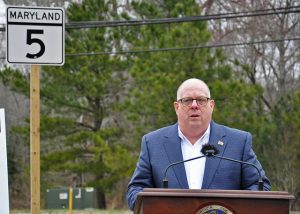 Governor Larry Hogan joined Maryland Department of Transportation (MDOT) Secretary Pete K. Rahn and MDOT State Highway Administration (MDOT SHA) Administrator Greg Slater to announce the start of construction for the much-anticipated MD 5 (Point Lookout Road) at Abell Street/Moakley Street intersection improvements project in Leonardtown.
This long-awaited project, which is a priority of St. Mary's County, will improve safety and relieve congestion at this busy intersection. The $12 million project will widen MD 5 from Clarks Rest Road to the entrance of St. Mary's Hospital to add left-turn lanes, as well as include wide shoulders for bicyclists, horse-drawn carriages, and sidewalks for pedestrians.
"I am pleased that this priority project is moving forward and our commitment to the citizens of St. Mary's County has been kept," said Governor Hogan. "This project will help deliver much needed congestion relief to thousands of motorists and allow our citizens to get to work, and then back home again in a faster, safer, and more efficient manner."
The improvements will cut commute times by 10 minutes for those who travel this section of MD 5 each day. MD 5 is a major thoroughfare from Southern Maryland to the Washington D.C. metropolitan area. Approximately 26,000 vehicles travel the corridor each day, a number that is projected to reach 32,000 by 2035.
"Our department is committed to improving our roadways, and we are pleased this long-awaited project will benefit the people of Leonardtown and the commuters of Southern Maryland," said Secretary Pete K. Rahn.
Next month, the MDOT SHA will begin phase one of the project, which includes utility relocation and grading work. Beginning spring 2019, MDOT SHA will begin construction to add the left-turn lanes, wide shoulders and new sidewalks. The project will be complete by fall 2021.
Photos courtesy the St. Mary's County Public Information Office