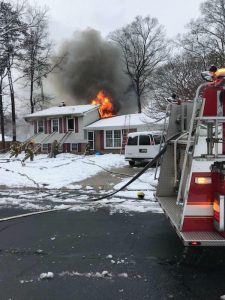 On Wednesday, March 21, 2018, at approximately 6:35 p.m., firefighters from the Waldorf Volunteer Fire Department and surrounding departments were alerted to report of a  house fire at 2212 Elgin Court, in Waldorf.
Crews arrived on scene to discover a 2 story single family home with fire and heavy smoke showing.
The cause of the fire was ruled accidental after embers from an outdoor fire pit ignited combustibles under the house.
The family was displaced as a result of the fire, and are being assisted by friends.
No injuries were reported.
It took around 20 minutes for firefighters to bring the blaze under control.
The total loss to the structure and contents was reported to be approximately $203,000.
Maryland State Fire Marshal's were called to the scene to investigate.
Photos courtesy of Waldorf Volunteer Fire Department.