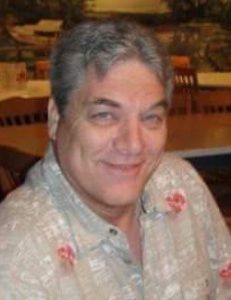 Kip was the loving father of two daughters, Jessica (Jason) Canada and Casey Amorose, and a doting Pap Pap to his two grandsons, Noah and Chandler.
Kip was born in McKeesport, PA. He grew up in Birchwood City, Oxon Hill, MD and graduated from Oxon Hill High School in 1973. He attended Control Data Institute of Technology in 1975 and had a successful career as a Field Engineer for Xerox. Kip liked classic rock music, playing darts, and later developed a true passion for his Harley Davidson Motorcycles. He was an avid Redskins fan. He was a devoted loving father, grandfather, and care giver to his parents. He enjoyed spending as much time possible with his grandsons. He was known for his quick wit, his infectious smile, and his kind and compassionate spirit.
Kip was preceded in death by his father, Carl Anthony Amorose, Jr. In addition to his daughters, son-in-law and grandsons, he is survived by his mother, Mary Ann Amorose, his brothers Christopher (Charlene) Amorose and David (Christine) Amorose, several nieces, nephews, and cousins, close friend Alan(Lisa) Colvin, mother of his children, Karen Amorose and many other dear friends. A Memorial Service will be held on Saturday, March 24, 2018, at the Huntt Funeral Home in Waldorf, MD. A Gathering will be held from 1-2 PM with a Memorial Service at 2 PM and a reception will follow. Memorial
Contributions may be made to the Wounded Warrior Project.