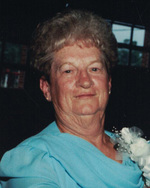 Edna Bell Gibson, 94, of Leonardtown, MD, formerly of Waysons Corner, MD passed away on March 18, 2018 in Leonardtown, MD. Born on April 27, 1923 in Lothian, MD she was the loving daughter of the late Clara and John Gibson. Edna is survived by her children: Donald (Janet) Phetteplace of Clements, MD, Ronald (Debra) Phetteplace of Chaptico, MD, 4 grandchildren and 4 great-grandchildren. She is preceded in death by her Siblings: Maxine Phetteplace and Elmer Gibson. Nephew: Johnny Gibson and Niece: Carolyn Cheek.
Edna moved from Waysons Corner, MD to St. Mary's County MD in 1979. She was employed with the C & P Telephone Company as a Yellow Pages Supervisor for 40 years.
The family will receive friends on Sunday, March 25, 2018 from 2:00 – 5:00 PM with prayers recited at 3:00 PM in the Mattingley-Gardiner Funeral Home Leonardtown, MD. A Graveside Service will be held on Monday, March 26, 2018 at 10:00 AM in Mt. Zion United Methodist Cemetery Lothian, MD with Father Michal Sajnog officiating.
Contributions may be made to 7th District Vol. Rescue Squad P.O. Box 7 Avenue, MD 20609 and/or Our Lady of the Wayside Church 37575 Chaptico Road Chaptico, MD 20621.