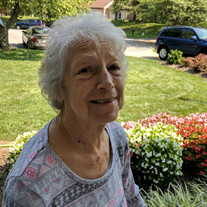 Anita Ree (Herrin) Procopio, age 72, of Huntingtown, Maryland, passed away on March 16, 2018.
She is preceded in death by her beloved husband, Raymond Francis Procopio. She is survived by her two sons she dearly loved, Alfonso Willard Procopio and Raymond Francis Procopio, Jr. and four grandchildren.
She is the daughter of the late Willard Eugene and Della Mae (McCubbins) Herrin; sister of Willard (Sandra) Herrin, Jr., Bruce Herrin, Phillip (Sheri) Herrin, Roy (Alice) Herrin and the late: Patsy (Curtis) Lane, Marlene Durden, Richard Herrin, and Yvonne Engel.
Anita found humor in simple things. The way she perceived the world around her often made others laugh. She enjoyed shopping and craft shows. Innately creative, her hobbies included playing the organ, embroidery, and ceramics. Always at the center of her greatest happiness and deepest sorrows were her family, friends, and animals. She had faith in our Lord and often talked aloud to him in her later years. Please hold her memory in reverence and wish her eternal peace.
Friends and family received on Thursday, March 29 from 11:00 AM until time of Prayer Service at 12:00 PM at Raymond Funeral Service Chapel, 5635 Washington Avenue, La Plata, Maryland 20646. Interment will follow at Cheltenham Veterans Cemetery, 11301 Crain Highway, Cheltenham, Maryland 20623.
In lieu of flowers, please consider memorial contributions to these top rated charities that Anita cared about, NARSAD (bbrfoundation.org), MHA (mentalhealthamerica.net), American Humane Society (americanhumane.org).