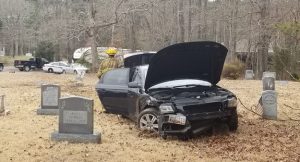 On Monday, March 26, 2018, at approximately 1:00 p.m., emergency personnel and deputies from the St. Mary's County Sheriff's Office responded to the Zion United Methodist Cemetery on Hermanville Road in Lexington Park for a motor vehicle accident.
Police arrived on scene and discovered a Audi passenger vehicle several hundred feet off the roadway and sitting in the middle of a cemetery.
The vehicle left the roadway before going airborne and continuing on several hundred feet, striking several headstones.
It is unknown at this time how many headstones were damaged or destroyed in the crash. The total cost of the damage done to the cemetery is unknown at this time.
The vehicle was estimated to be traveling at least twice the posted speed limit at the time of the accident. The driver claimed an animal ran out in front of them, causing them to lose control of the vehicle.