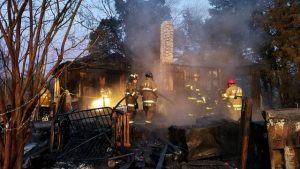 UPDATE – Official Press Release from the Office of the State Fire Marshal: Deputy State Fire Marshals are currently investigating the origin and cause of an early morning fatal house fire that claimed the lives of two children ages two and three years old. The fire occurred at 28603 Point Lookout Road in Loveville.
The initial 911 call was received from a passersby. The fire was discovered by one of the adult occupants, Kelsey Davis at approximately 4:39 a.m. Leonardtown Volunteer Fire Department responded to the one alarm fire with with approximately 38 fire personnel from surrounding Departments. It took firefighters approximately 20 minutes to extinguish the fire. The house had no working smoke alarms. The owners of the property are Autumn Bowles and Dawn Wilson. The structure was a total loss estimated at approximately $150,000 and the contents loss of approximately $50,000. Two dogs also perished in the fire.
Four victims were flown to area hospitals with non life threatening injuries. Autumn Bowles, her two children ages one year old and two months and Kelsey Davis. The deceased victims were transported to the Office of the Chief Medical Examiner in Baltimore to determine the exact cause of death.
The cause of the fire is still under investigation. The St. Mary's County Sheriff's Office is assisting with the investigation.
There is no additional information at this time.
UPDATE: Family members told SMNEWSNET that a male and female, 2-year-old and 3-year-old had died in the fire. They believe the fire started from a kerosene heater in the house, the home did not have electricity connected to it at the time of the fire.
CLICK the top video below the hear the emergency Services radio transmissions from the incident.
3/27/2018: On Tuesday, March 27, 2018, at approximately 4:40 a.m., firefighters from the Leonardtown volunteer Fire Department and surrounding stations were alerted to report of a house fire on Point Lookout Road, in Loveville.
Deputies from the St. Mary's County Sheriff's Office observed a house on fire and requested assistance from the fire departments. Deputies located and provided care to several occupants of the fire who required transport to regional medical facilities.
The fire was brought under control by local volunteer fire departments and care provided by local volunteer EMS providers.
Investigators with the Office of the State Fire Marshal were requested and have responded to the scene to assist and determine the cause of the fire.
Two adults and two small children were flown to area hospitals for treatment, and two small children where pronounced deceased at the scene.