Chesapeake Windsail Cruises departs Chesapeake Beach April 17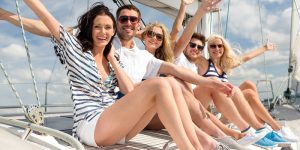 Chesapeake Windsail Cruises Corporation (CWC) will set sail out of Chesapeake Beach Resort & Spa in the town of Chesapeake Beach, April 17. CWC is the first cruise company of this type to depart from the historic bayside town.
CWC will offer four, 2 ½-hour cruises Tuesday through Sunday aboard a 42-foot limited edition sailing vessel. The cruise company will also provide private cruises for weddings, anniversaries and other special occasions.
CWC will host the yacht's christening and open boat celebration April 17 with refreshments, prizes and tours.  Sea goers are encouraged to attend and celebrate the changing of the seasons along the Chesapeake Bay.
"We are so excited to bring this unique and refreshing opportunity to our neighbors throughout the region," said CWC President Nathaniel Pope. "Chesapeake Windsail Cruises is a personal dream realized, but also a spirited realization of the rich history and lifestyle we've come to enjoy in the Chesapeake Bay region. Chesapeake Windsail Cruises will help share this vision with the nation."
Cruisers depart from the Chesapeake Beach Resort & Spa in Chesapeake Beach on Calvert County's northern coast and spend time aboard the Eternal Hope. The ever-changing bay-scape, active wildlife, historic lighthouses and natural scenery, like the Calvert Cliffs, are sure to delight and educate sea goers.
"As a member of our town's Economic Development Committee, I want to welcome Chesapeake Windsail Cruises and the economic benefits the business brings to our area," said Chesapeake Beach councilman Greg Morris. "We look forward to the business weaving itself into the fabric of what is a great town and Twin Beach area."
Chesapeake Windsail Cruises' goal is to provide passengers with a unique, wonderful and memorable sailing experience on the bay and regional rivers. Future ports will include Annapolis, Baltimore, the National Harbor complex and Hampton, Va.
According to its manufacturer, the Eternal Hope is a 42-foot Beneteau 411 Limited Edition, which possesses an amazingly spacious interior with beautiful, rich woodwork while providing performance and ease of handling. Sharp lines and sumptuous comfort has made the Beneteau 411 a modern cruising classic and one of the more popular and successful 40-footers of all time.
Eternal Hope christening and open boat activities begin at 3 p.m. April 17 at the Chesapeake Beach Resort & Spa in Chesapeake Beach.
As part of CWC's community involvement, internships aboard the yacht are offered to college or high school students interested in the maritime industry during the summer months.
For more information or to book a Chesapeake Windsail Cruise, e-mail [email protected] or call 855-561-8810.