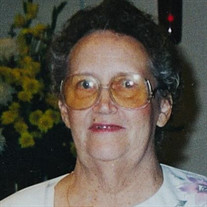 Emma Louise Clements, 85, of La Plata, Maryland, died on March 23, 2018 at the Sage Point Senior Living Services in La Plata.
Born on November 6, 1932 in La Plata, she was the daughter of the late Dorothy May Burdette Norris and Robert Vincent Norris. A homemaker and mom, Mrs. Clements enjoyed baking, crocheting, china painting and growing flowers. She entered numerous projects that she made in the Charles County Fair. Mrs. Clements also served as a Judge for both the Charles County and St. Mary's County Fair. She loved feeding and watching birds and going out on the boat. She was of the Catholic faith and attended St. Joseph's Catholic Church in Pomfret.
In addition to her parents, Mrs. Clements is preceded in death by her son Thomas G. Clements Jr.
She is survived by her husband Thomas Gerald Clements Sr.; sons Steve and his wife Lucy and Joseph Clements; daughter-in-law Donna Clements; grandchildren Troy, Dawn, Lori, Jeff, Shelby, Abigail and Mary; great grandchildren Hannah, Tommy, Tyler, Lucas, Breigh, Lily, Jesse and Randy Jr.; sister Helen Anne Roseler.
A visitation will be held on Wednesday, April 11, 2018 from 6 PM to 8 PM at Raymond Funeral Service, P.A., 5635 Washington Avenue La Plata, MD 20646.
Mass of Christian Burial will be offered on Thursday, April 12, 2018 beginning at 11 AM at St. Joseph's Catholic Church, 4590 St. Josephs Way, Pomfret, MD 20675.
Interment to follow in the church cemetery. Memorial contributions may be made to St. Joseph's Catholic Church.