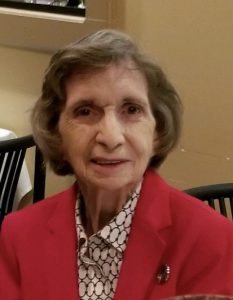 Betty Jane Dixon Moreland, 90, passed away on March 27th after a brief illness. A lifelong resident of Galesville, she is survived by her husband, Robert S. Moreland, whom she married on July 9, 1949.
In response to a severe shortage of teachers in 1943, Betty started teaching at the age of 16 after completing a six-week program at the University of Maryland. She saved enough money from her teaching job to attend Western Maryland College and graduated in 1949. Betty spent the next 40 years working for Anne Arundel County Public Schools, retiring from Lothian Elementary after serving as principal for 27 years. Betty was also a lifelong fan of the Baltimore Orioles.
In addition to her husband, she is survived by her siblings, Sue Hines and Chuck Dixon (Debbie) all of Galesville and Dotty Chaney (Steuart) of Lothian. She is also survived by her daughters Mary Hantske (Mark) of Lothian, Barbara Rowland (Wayne) and Robin Bembe (Albert) all of Galesville, and Jennifer (Jim) of Dunkirk. In addition, Betty is survived by her grandchildren Robert Hantske (Tara), Meredith Wooters (Craig), Carly Waple, Michael Bembe (Erin) and Darren Seibert, as well as her great-grandchildren Riley, Reese and Reed Hantske, Andrew and Nicholas Waple, and Charlotte and Catherine Wooters.
Betty is predeceased by her parents, Sewell Dixon, Sr. and Agnes Dixon, her siblings Sewell Dixon Jr. and Brenda Perry, and her brothers-in-law, Thomas Perry Sr. and John Hines Sr. She is also predeceased by her granddaughter, Cassie Nicole Roberts.