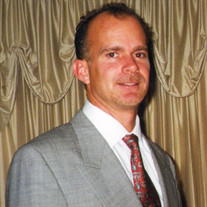 Douglas Eugene Wells, "Dougie", 56 of Flat Rock, NC (formally of Oxon Hill, MD) passed on March 23, 2018, surrounded by his loving family.
Born in Washington, DC the second of four children to Diana L. (Azbell) Wells and Maynard E. Wells at Providence Hospital.
Doug grew up in Oxon Hill, MD attending Prince George's county schools, graduating from Oxon Hill High School, Class of 1979. During his years in high school, Doug excelled in Football, Baseball, and Basketball. He also attended the local Boys Club. After high school, Doug moved to Arizona and then 10 years ago, he settled in Henderson, NC. He always stayed true to his roots; he wore his favorite RedSkins jersey, proudly, with his big smile and infectious laughter.
Doug was a contract painter of homes and business'. His steady hand applied precise, clear and deliberate strokes, never needing painter's tape. Doug was an outgoing, generous, amazing person. He had an inherent love of music and a pretty good voice. He enjoyed karaoke, in particular, the music of Elvis- always giving tribute to the "King". He also loved going to church and old antiques.
As for most men, Doug loved his dogs, Max and Waya, just as much as he was loved. Max was akin to a soul mate and when Max died, Doug was heartsick. Like Max, Waya eventually found a way into his heart. When he wasn't caring for his beloved dogs, he would be maintaining or filling the many bird feeders he had. It was relaxing to see those birds enjoy the feast he set out for them.
On the same note, for Doug, cooking was love. He can be remembered for making cooking videos for Face Book, providing simplistic instructions on how to concoct a variety of mealtime favorites. He also looked forward to trips back home to Maryland, where he could feast on a favorite, steamed crabs.
Doug was the type of guy who could walk into a dark room and light it up. He had a love for life and a positive outlook, meeting each day with a smile. He was loved by so many and will truly be missed.
Beloved son of Diana L. Wells of Chesapeake, MD and Maynard "Jebby" Wells (Caroline) of Arnold, MD; devoted father of Jessica L. Curtis of MA; loving brother of Kenneth Wells (Peggy) of Lexington, SC, Richard Wells of Owings, MD and Tracy Wells of Phoenix, AZ; dear uncle of Matthew Wells, Megan Jenkins (Patrick), Richard A. Wells and Michael Krescanko. Also survived by Jessica's mother, Marian Thomas of Brunswick, GA.