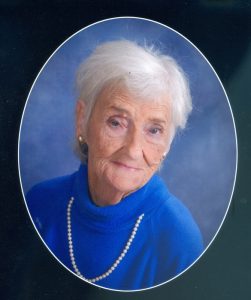 Anna Willett Welch, 94, of Pomfret, MD entered into eternal life on March 27, 2018.
Preceded in death by her parents, Nellie Coombs and J. Lee Willett; husband, Hydrick; son, Terry; grandsons, Daniel Vacin, Dane Snapko, Jr.; sons-in-law, Robert Vacin, Thomas McNey; siblings, Joseph and Ricky Willett and Rita Dutton.
Survived by daughters, Joyce "Cookie" Sparks (Les), Candace Kasten (Paul), Rosemary Snapko (Dane), Molly McNey; grandchildren, Neil Sparks, Mary Arfmann, Noel, Michael, Sara Vacin, Adam Snapko, Nicholas, Christopher McNey; 12 great-grandchildren; brothers, Edward Lee, Douglas Willett; sisters, Margaret Hurlburt and Patricia Cox.
Visitation will be held on Monday, April 2, 2018 from 6-8PM at Arehart-Echols Funeral Home, PA (211 St. Mary's Ave., LaPlata, MD).  Mass of Christian Burial will be held on Tuesday, April 3, 2018 at 11AM at St. Joseph's Catholic Church (4590 St. Joseph's Way, Pomfret MD).  Interment to follow in Church Cemetery.  Repast to follow in Parish Center.