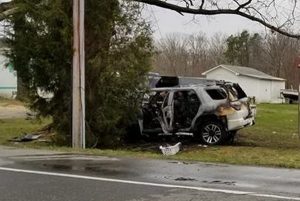 On Tuesday, April 3, 2018, at approximately 8:00 a.m., police, fire and rescue crews responded to a report of an motor vehicle accident with injuries, in the 27600 block of Mechanicsville Road at Harding Way in Mechanicsville
Crews arrived on scene to discover a motor vehicle accident with fire.
The patient was removed by citizens prior to the arrival of fire department personnel.
The patient has been flown to an area trauma center with life threatening injuries.
The cause of the crash remains under investigation.