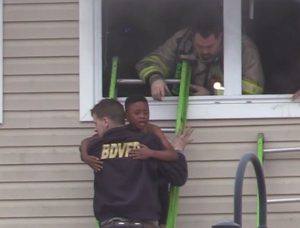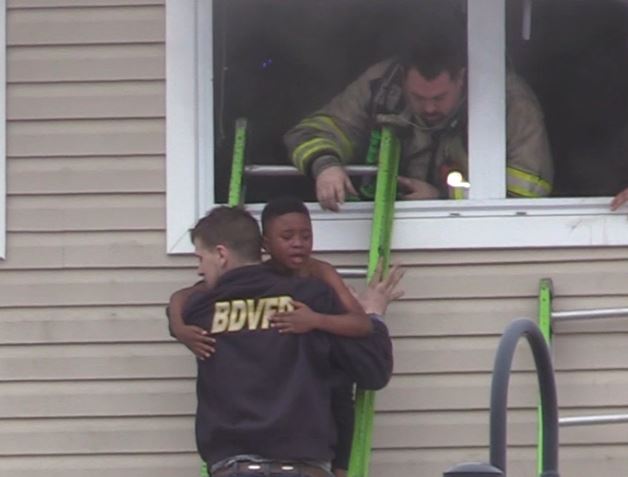 UPDATE 4/10/2018 @ 2:00 p.m.: The Office of the State Fire Marshal determined the cause of the fire that started in the interior of the garage was accidental, and started by a child playing with a lighter.
The total cost of damage to the structure and contents was estimated at $20,000.
Smoke alarms were present and working. Sprinklers were activated in the garage before firefighters arrived on scene, and helped contain the fire
The family was displaced as a result of the fire and are being assisted by the American Red Cross and other family members
4/10/2018: On Monday, April 9, 2018, at approximately 5:30 p.m., firefighters from Bay District Volunteer Fire Department and surrounding departments responded to the River Bay Townhomes on Castaway Circle, in Lexington Park for the report of a townhouse on fire with people trapped.
Crews arrived on scene to discover a three-story townhome with smoke showing and three people trapped in a third floor bedroom.
A woman and her two children were in a top floor bedroom and were unable to exit the residence due to the amount of smoke coming from the fire below them.
Firefighters assisted the occupants of the home by giving them oxygen from their self-contained breathing apparatus as they extracted them from bedroom windows.
Firefighters worked quickly to extinguish the blaze that was contained to the garage on the first floor.
No serious injuries were reported, the woman and her two children were transported from the scene for smoke inhalation.
The cause of the fire is under investigation.