Looking for a caffeine fix?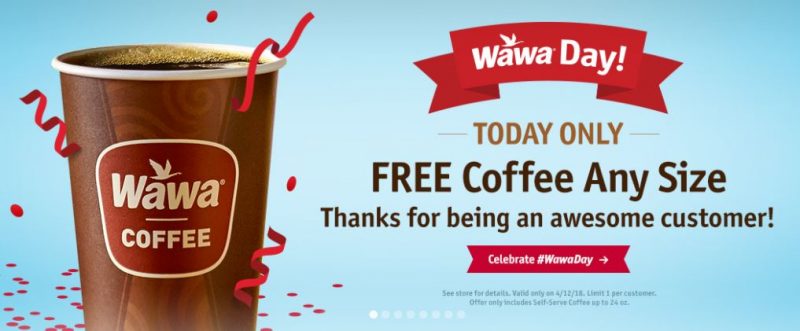 Wawa is celebrating its customers by giving away free coffee.
On Thursday — Wawa Day — the convenience store chain will give away more than 2 million cups of coffee to its customers. Any size coffee will be given away free throughout the entire day at all stores.
The company says "Wawa Day" is a day to celebrate its customers. The celebration comes just four days before the chain's 54th anniversary.
Grahame Wood established the original outlet in Folsom, Pennsylvania, on April 16, 1964. The company now has hundreds of stores in Pennsylvania, New Jersey, Delaware, Maryland, Virginia and Florida.
Wawa also will celebrate the fourth anniversary of The Wawa Foundation and the achievement of Wawa and its foundation in donating $50 million to causes surrounding health, hunger and everyday heroes.
According to a news release, Wawa will unveil a special #50MillionThanks goal donation announcement tribute thanking customers, associates and national partners for their help in donating $50 million to The Wawa Foundation, and celebrating millions of "magical customer moments" displayed on in-store, digital signage at all Wawa stores.