On Sunday, April 8, 2018, at approximately 10:25 a.m., Deputy J. Sapienza, of the Charles County Sheriff's Office was patrolling the area of Route 301 in the area of Route 5, in Waldorf, when he observed a newer model black Audi passenger car stopped in the center Northbound lane of Route 301.
The deputy observed a white male with short, light colored hair slumped over in the driver's seat. The officer continued Northbound to find a safe location to make a U-turn so that he could return to the vehicle and check the welfare of the driver. Prior to being able to get behind the vehicle, a citizen was able to wake up the driver, and the vehicle continued northbound on Route 301. Police then located the vehicle stopped in the number 3 lane of Route 301, and it had apparently been in an accident.
As the deputy approached the vehicle, he observed a white male matching the description of the individual he had just previously seen slumped over at the driver's seat. The driver had a red true religion backpack on and was in the process of grabbing a plastic bag filled with 2 shoe boxes from the driver's side rear seat. The side curtain airbags had deployed in the front of the vehicle, which obstructed view into the passenger compartment of the vehicle.
Police made contact with the male, who provided a false name and date of birth, he would later be identified as Barry Wayne Wilhelm Jr., 24, of Martinsburg,West Virginia.
Wilhelm was arrested on scene for DUI based on his demeanor and surrounding circumstances. Standardized field sobriety testing was not given immediately for safety reasons in heavy traffic, as he was having trouble standing without swaying.
During a search, Wilhelm was found in possession of a bag of marijuana with approximately 7 grams of raw marijuana in his pants pocket and $778 in cash. A search of the vehicle and Wilhelm's belongings was conducted and led to the discovery of 102 grams of a heroin/ fentanyl mixture, with a street value of $20,000.00, a prescription bottle containing Gabapentin, 24 Alprazolam pills and 3 cellular phones. Police also located a Beretta 9mm loaded with hollow point ammunition, with a magazine capable of holding 17 rounds. The magazine had a total of 13 rounds in, as well as one in the chamber of the handgun. A check of a law enforcement database was conducted on the firearm which came back stolen from Spotsylvania County, VA.
Wilhelm ls currently wanted through Martinsburg County, WV for an escape violation, and as such is unable to possess a firearm
At approximately 11:45 a.m., the Defendant stated to police, "Sit back down I have to tell you something, you're going to be pissed at me." The defendant immediately stated, he had provided a fake name, and told police his real name was Barry Wayne Wilhelm Jr., 24, of Martinsburg, West Virginia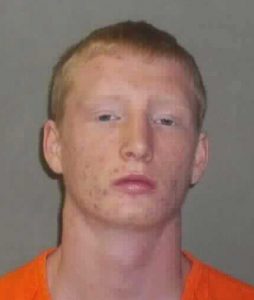 Wilhelm stated he remembered being woken up by a military convoy and driving north. Wilhelm also stated he remembered being in an accident and getting his bags from the back seat of the vehicle. Wilhelm told police he remembered possessing the alprazolam, and 28 grams of heroin, he stated he did not remember the gun was in the car.
Wilhelm had no identification and was slurring his words, he advised he took heroin approximately 45 minutes prior to being involved in the accident. Wilhelm advised the car belonged to a friend of his but could not provide a name or a description of the owner of the vehicle. The vehicle itself is registered to "VW Credit Inc". Wilhelm advised he has never had a driver's license, and was on his way to his girlfriend's residence on Edmont Place Waldorf. Officers made contact with her, who advised his name was Tyler, but would not provide any further identifying information as to him or who the car belonged to.
Wilhelm was arrested and transported to the Charles County Detention Center for processing, upon arrival at CCDC, medical staff refused admittance of Defendant Wilhelm due to his impaired condition, Defendant Wilhelm was transported to Charles Regional Medical Center and was administered Narcan twice over the next few hours
Wilhelm is currently being held without bond and was charged with the following crimes
CDS POSS W/INT TO DIST
CDS: POSSESS-NOT MARIJUANA
CDS: POSSESS-NOT MARIJUANA
CDS POSS W/INT TO DIST
FALSE STMT TO PEACE OFFICER
FALSE STMT TO PEACE OFFICER
THEFT: $100 TO UNDER $1,500
CDS DIST/DISPENSE-LG AMT
CDS DIST/DISPENSE-LG AMT
HANDGUN ON PERSON
HANDGUN IN VEHICLE
REG FIREARM:ILLEGAL POSSESSION
DISTR ETC. W/FIREARM
FIREARM/DRUG TRAF CRIME
FAILURE OF INDIVIDUAL DRIVING ON HIGHWAY TO DISPLAY LICENSE TO UNIFORMED POLICE ON DEMAND
DRIVING MOTOR VEHICLE ON HIGHWAY WITHOUT REQUIRED LICENSE AND AUTHORIZATION
RECKLESS DRIVING VEHICLE IN WANTON AND WILLFUL DISREGARD FOR SAFETY OF PERSONS AND PROPERTY
DRIVING VEHICLE WHILE IMPAIRED BY CONTROLLED DANGEROUS SUBSTANCE
DRIVING VEHICLE WHILE SO FAR IMPAIRED BY DRUGS CANNOT DRIVE SAFELY
FAILURE TO CONTROL VEHICLE SPEED ON HIGHWAY TO AVOID COLLISION
DRIVER OF MOTOR VEHICLE FOLLOWING VEHICLE CLOSER THAN REASONABLE AND PRUDENT