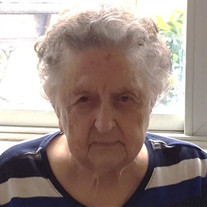 Myrtle McCoy Taylor passed away on April 9, 2018 at Sagepoint Nursing Home in La Plata, Maryland. She was born in Weeksbury, Kentucky on December 16, 1919 (98 years old) to Finnie Harrison Mc Coy and Nora Johnson Mc Coy. Myrtle was the second oldest of 9 siblings (six sisters and two brothers).
Myrtle married James Scott Taylor (Jim) in 1940. Together they had five children, Betty Musial (Michael), William "Bud", Barbara "Sue" Thompson (Charles), Robert "Bobby" (Donna), and Joe Thomas "Tommy" (Pam). Myrtle had six grandchildren, Michelle Miner, Terri Lusk, Shannon Taylor, Justin Taylor, Tommy Joe Taylor and Lindsey Egner. Myrtle also has six great grandchildren Nicholas Miner, Taylor Miner, Andrew Slaughter, Camden Taylor, Luke Egner, Jake Egner and Baby Boy Egner due any day. Myrtle's older grandchildren gave her the name MeMe and that is what everyone calls her now.
In 1962, Jim and Myrtle moved the family from Pikeville, Kentucky to Indian Head, Maryland. Shortly after moving to Maryland, Myrtle got a job as a seamstress at Physician's Memorial Hospital where she would work for the next 36 years, retiring at the age of 77 as the Linen Supervisor. Doctors, nurses, staff and patients all knew her and she made friends everywhere she went. Myrtle would take in mending and altering of clothes as a way to make extra money, many days working late into the night.
Myrtle moved into an apartment at the Maples in La Plata in 2000 at the age of 80 and would live there for the next 15 years where she then transitioned to Sagepoint Gardens Assisted Living until the Fall of 2017 where she moved to Sagepoint Nursing Home. She was an avid reader up until a few years ago when her eyesight started to fail. Her favorite author was Danielle Steele. She also never missed Wheel of Fortune and Jeopardy, two of her favorite shows. Myrtle also loved to crochet, and over the years crocheted thousands of newborn baby caps that she donated to the hospital.
Friends and family received on Friday, April 13, 2018 from 10AM until time of Funeral Service at 12PM at Raymond Funeral Service Chapel, 5635 Washington Avenue, La Plata, Maryland 20646. Interment will be private.