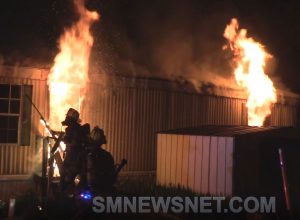 UPDATE 4/25/2018 @ 10:35 a.m.: According to a press release by The Office of the State Fire Marshal, the fire started in one of the bedrooms and the cause is still under investigation. The estimated loss to the structure and contents was listed at $100,000.
The fire displaced 3 adults. One adult male occupant was transported from the scene and is currently being treated for injuries.
The family is being assisted by the American Red Cross.
4/25/2018 @ 6:00 a.m.: On Wednesday, April 25, 2018, at approximately 2:00 a.m., firefighters from Bay District, Hollywood, Leonardtown, Valley Lee, Ridge and the Patuxent River Naval Air Station Fire Department responded to a trailer fire in Lexington Park.
First responding units arrived on scene to discover a single trailer on Ace Lane, with heavy fire and smoke showing. When firefighters questioned the occupants of the trailer, they were told everyone had made it out of the trailer.
SMECO and The Office of the State Fire Marshal were also called to the scene to assist firefighters.
One person was transported to an area hospital for burns and a compromised airway.
Updates will be provided as they become available.