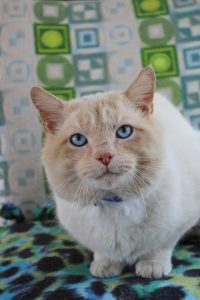 Wednesday's Pet for 4/25/18 is NEWMAN
Featured Pet: Newman
Rescue Group: Pets with Disabilities
Disability: FIV Positive
Breed: Siamese and Domestic Short Hair
Sex: Male
Size: Small
Vetted: Neutered and Up-to-date with routine shots
Adoption Fee: $100.00
Newman is a 4 year old Siamese and Domestic Short Haired Mix. He is litter box trained and eats well. Newman found himself stray at our local shelter, where he probably would have been adopted quickly due to his stunning looks but unfortunately, he tested positive for FIV, which scares many adopters.
FIV is nothing to be afraid of, Feline Immunodeficiency Virus (FIV) typically causes a weakening of the cat's immune system. FIV positive cats can live normal lives, both in quality and duration. They just need to be monitored for infections and dental issues. If they are well cared for, they can be happy, healthy, wonderful pets and can live with other non-infected cats.
Newman has probably lived his life outside. He was very dirty and covered in flea dirt when we picked him up from the shelter. He has since been groomed (He was a perfect gentleman for the groomer!) and is feeling great. He loves to have a couple pets and is fantastic with other cats and dogs too. Newman will make a wonderful companion.
If you are interested in making Newman part of your family please email [email protected] or call 443-624-9270.
"He is your friend, your partner, your defender, your dog. You are his life, his love, his leader. He will be yours, faithful and true, to the last beat of his heart. You owe it to him to be worthy of such devotion."
– Unknown