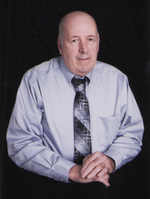 Joseph "Joe" Leslie Fuchs, 69, of Leonardtown, MD passed away on April 24, 2018 at his home with his loving family and faithful dog Ziva by his side. Born on March 2, 1949 in Pensacola, FL he was the son of the late Brenda Ruth Fuchs, and John Frederick Fuchs. Joe was the loving husband of Cornelia "Connie" Fuchs, whom he married on February 14, 1987 in Leonardtown, MD. Joe is survived by his children; Jonathan Fuchs (Karen) of Upperco, Maryland, Michael Fuchs (Irma) of Leonardtown, MD, Jessica Fuchs (Wade) of Franklin, NC, 3 grandchildren; Jonathan, Seth, and Jakob. Along with his brothers Richard Fuchs of Oakland, OR, and Alan Fuchs of Mechanicsville, MD. He was a lifelong St. Mary's County, MD resident and graduated from Chopticon High School in 1967.
Joe served in the United States Army from July 12, 1968 to December 21, 1971, While serving in the Army he earned the National Defense Service Medal , Sharpshooter (Rifle M-14); and Expert (Rifle M-16). As well as the United States Navy Reserves. Joe worked as an Engineering Technician for the Department of Defense and Patuxent River, MD, retiring in 2005. He enjoyed; hunting, picking, and junk collecting. His hobby was antique Indian Motorcycle restoration.
The family will receive friends on Monday, April 30, 2018 from 10:00 AM to 11:00 AM in the Mattingley-Gardiner Funeral Home Leonardtown, MD. Where a Funeral Service will be held at 11:00 AM in the Funeral Home Chapel with Pastor Dan Moore officiating. Interment will follow in Holy Face Catholic Cemetery Great Mills, MD. Pallbearers will be; Jonathan Fuchs, Michael Fuchs, Billy Groome, Ron Washabaugh, David Brown, and Michael Brown. Honorary Pallbearers will be; Jonathan Fuch, Jr. Seth Christian, Jakob Fuch.
Contributions may be made to Hospice of St. Mary's P.O. Box 625 Leonardtown, MD 20650.