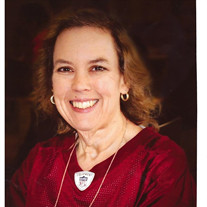 Lynette Leveillee Todd, age 52 of Waldorf, Maryland, died April 23, 2018 at University of Maryland Charles Regional Medical Center in La Plata, Maryland.
Lynette was an Inventory Supervisor for The Architect of the Capitol for 28 years and a member of Lifepoint Church in Waldorf, Maryland. She was also a member of the Elks Lodge #2421 in Waldorf and a member of The Goose Bay Campgrounds. She also worked part-time as a Sales Representative for Initials, Inc. She loved the color purple and carousels, camping, and antiquing.
She was the daughter of Alfred Joseph Leveillee and Geraldine Ardell Gibson Leveillee.
She is survived by her fiancé, James Joseph Candore; her daughter, Amanda Marie Todd; her step-daughter, Rebeka A. Candore; her brother, Mark J. Leveillee (Carol); her sister, Susan Leveillee Whitman; her niece, Meghan Whitman; and her nephew, Anthony Joseph Leveillee.
Friends received on Tuesday, May 1, 2018 from 2-4PM and 6-8PM with Elks Lodge Service at 7PM and where Funeral Service will be held on Wednesday, May 2, 2018 at 11AM at Raymond Funeral Service Chapel, 5635 Washington Avenue, La Plata, Maryland 20646. Interment to follow at Trinity Memorial Gardens, 3221 Mattawoman-Beantown Road, Waldorf, Maryland 20601.
Memorials in Lynette's name are asked to National Leiomyosarcoma Foundation, 2843 East Grand River, Suite 230, East Lansing, Michigan 48823.