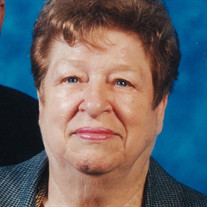 Dorothy Caroline Jones, 91, of Indian Head, MD died on April 21, 2018.
Dorothy was a chef for Cheltenham Navy Base and a member of Pisgah Methodist Church. She also belonged to organizations such as 2 & 1 Club, Clark Senior Center, and the Red Hat Society. She enjoyed traveling and collecting Disney items but especially loved spending time with her children, grandchildren, and great-grandchildren.
She is preceded in death by her parents W. Jessie Doster and Elizabeth Veronica Kennedy; husbands, John Payne, Ira Stuckey, and Lynn E. Jones; her daughter, Pamela J. McMinn; brothers, Lester Doster, George W. Doster, John R. Doster, Ralph P. Doster; and her sister, Beatrice Walkden.
Dorothy is survived by her sons, Lester P. Payne of Florida and Dave Jones of Suffolk, VA; daughters, Sandra L. Hammonds of La Plata, Deborah J. McGhee of Hughesville; 14 grandchildren and 22 great-grandchildren.
Friends are received on Tuesday, May 1, 2018 from 11:30AM until time of service at 1PM at Raymond Funeral Chapel in La Plata. Her interment will follow at Trinity Memorial Gardens in Waldorf.
Memorial contributions in Dorothy's name may be made to the Children's National Medical Center (111 Michigan Ave. NW, Washington, DC 20010).