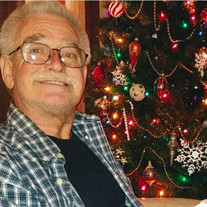 John Howard Boswell, Sr. 74 of Waldorf, MD passed away on April 23, 2018.
John was born on April 20, 1944 in Washington, DC to the late parents of Alfred Earl Boswell and Annie Simmons.
John proudly served his country as a decorated Army Ranger in the Screaming Eagle Airborne Division. He served as a heavy artillery machine gunner in the Vietnam War. He retired from the Local #963 Union where he spent over 30 years as a Glazier. John was a loving husband, father, grandfather and an amazing friend to many. He was an avid Redskins fan and a "Jack of All Trades". He loved the beach, Maryland crabs, traveling, and truly enjoyed watching his grandkids grow. He is known for his jokes and talked to everyone he met. He will be truly missed by his family, friends, and all that knew him.
He is survived by his loving wife of 43 years, Linda S. Boswell; his children Susan L. Travers (Christopher Simms), John H. Boswell, Jr. (Jennifer Boswell), and Heather R. Boswell (Timothy Bonds); his grandchildren Klarissa Travers, Brooke Warner, Cullen Boswell, Britney Warner, Jacob Boswell, Bryson Bonds, and Garrett Boswell.
Friends received on Friday, May 4, 2018 from 10:00AM until the time of Funeral Service at 12:00PM at Raymond Funeral Chapel in La Plata, Maryland with Interment to follow at 1:00pm at Maryland Veterans Cemetery in Cheltenham, Maryland.
Memorials in John's name are asked to Wounded Warriors Project.