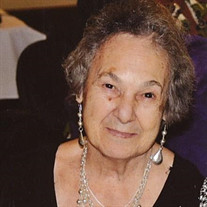 Joanne Margaret Holva, age 77 of La Plata, Maryland (formerly of Pennsylvania), died April 27, 2018 at Sagepoint Senior Living Center in La Plata, Maryland.
Joanne was a homemaker and attended New Life Wesleyan Church in La Plata. She enjoyed doing word search puzzles, shopping, and eating meals out at restaurants.
She was the daughter of Rocco Lopez and Jennie Natale Lopez. In addition to her parents, she is also predeceased by her husband, Bernard "Benny" Holva and her son, Bernard "Bernie" Holva Jr.
She is survived by her sisters, Rosie Smodic, Irene Raymond, and Mary Louise Crayton.
Funeral Services and Interment will be private.
Memorials in Joanne's name are asked to New Life Wesleyan Church, 9690 Shepherd's Creek Place, La Plata, Maryland 20646.