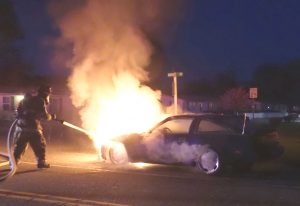 On Sunday, April 29, 2018, at approximately 8:30 p.m., firefighters from Bay District Volunteer Fire Department responded to a vehicle fire on Norris Road, in the area of Baja Lane, in Great Mills.
Firefighters arrived on scene to find a blue Nissan in the roadway with heavy fire coming from under the hood. The driver of the vehicle was able to get out of the vehicle before arrival of the fire department, and was uninjured.
Officials at the scene were told the vehicle had recently had some electrical work done on the vehicle.
A Trooper from the Maryland State Police Leonardtown Barrack responded to the scene to investigate.