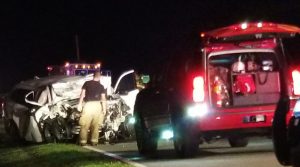 UPDATE 5/8/2018: On Sunday, May 6, 2018 at approximately 11:00pm, Troopers from the Leonardtown Barrack responded to the area of MD Rt. 234 (Budds Creek Road) and Pin Cushion Road, Leonardtown, for a reported serious motor vehicle collision. As a result of the collision, a male operator was pronounced deceased at the scene.
Upon arrival, Tpr. M. Posch and Cpl. E. Krenik discovered two vehicles involved in the accident with severe damage from a head on collision and one vehicle was engulfed in fire with the driver trapped inside.
A preliminary investigation conducted by Troopers from the Leonardtown Barrack, with the assistance of the Maryland State Police Southern Region Crash Unit, indicates a 2017 Chevrolet Trax operated by William Lucas of Washington, 68, of Washington DC, was traveling east on Rt. 234 and attempted to pass two vehicles. While passing, the Chevrolet crossed into the westbound lane and into the path of a 2017 Mitsubishi Outlander operated by Ashley Williams of 22, of Mechanicsville, striking it head on.
Ms. Williams was transported to Washington Hospital Center by Maryland State Police Helicopter Trooper 7 with serious injuries. Mr. Lucas was pronounced deceased on the scene.
Anyone who may have witnessed this collision is asked to contact the Maryland State Police Leonardtown Barrack Duty Officer at (301) 475-8955.
The investigation is continuing and is being investigated by Trooper First Class W. Scarlett and Trooper M. Posch. (18-MSP-019206)
5/7/2018: On Sunday, May 6, 2018, at approximately 11:00 p.m., police, fire and rescue personnel responded to a serious motor vehicle accident on Budds Creek Road, in the area of Pin Cushion Road in Clements.
Police were first to arrive on the scene of a two vehicle head-on collision and found one of the vehicles on fire, but were unable to contain the fire with the fire extinguishers they had on scene.
Firefighters arrived minutes later and found one vehicle fully engulfed in flames, with the driver trapped. The driver of the vehicle on fire was pronounced deceased at the scene, while the driver of the other vehicle was transported to an area hospital with serious injuries.
Police are investigating the cause of the accident, and details will be provided as they become available.