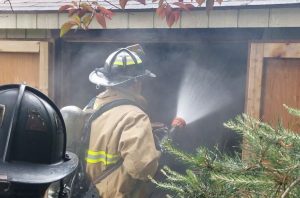 On Sunday, May 13, 2018, at approximately 11:35 a.m, firefighters from Patuxent River Naval Air Station and Bay District Volunteer Fire Department responded to a shed fire at 21549 Old Missouri Street, in Lexington Park.
The fire was discovered by a neighbor and was contained to the interior of a 10 x 10 shed with no extension to the dwelling.
One juvenile was charged with setting the fire and released back to the custody of his mother.
Prior to this incident, on Saturday, May 12, 2018, the same juvenile attempted to set fire to an exterior utility closet. Deputies from the St. Mary's County Sheriff's Office responded. However, the juvenile fled the scene prior to their arrival.