O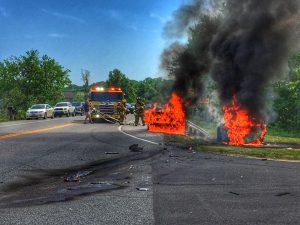 n May 12, 2018, at approximately 3:00 p.m. deputies from the Calvert County Sheriff's Office responded to Maryland Route 2 and Wayside Drive in Sunderland for a report of an accident involving three vehicles.
The investigation revealed a 1997 Chevrolet Cavalier, driven by Mathew Austin Smith, 29 of Bushwood, was waiting to turn at Wayside Drive. A 2013 Dodge Caravan, driven by Nicole Bland, 32 of Lusby, was travelling northbound in the same area when it struck the Cavalier and sent it into oncoming traffic. The Cavalier subsequently struck a Toyota Prius, driven by Rachel Broderick, 33 of Huntingtown. The Cavalier and the Prius both caught fire. The occupants of the vehicles were removed by citizens.
Smith was transported by helicopter for his injuries.
The Dodge Caravan driven by Ms. Bland also had twin 6-month-old passengers in the vehicles. They were secured in car seats and uninjured. Bland was charged with Driving under the influence and transported to the Calvert County Detention Center.
This case is still under investigation by Dfc. Bowlan.
Photos courtesy of the Dunkirk Volunteer Fire Department.