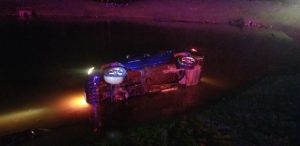 On Friday, May 18, 2018, at approximately 9:55 p.m., police, fire and rescue personnel responded to Pegg Road, in the area of Stoney Brook Road for the reported serious motor vehicle accident with one vehicle overturned with entrapment, into a pond.
Crews arrived on scene to find a SUV off the roadway, on its side in a pond with the passengers side of the vehicle partially submerged in water and mud. All occupants were accounted for and out of the vehicle when rescue crews arrived.
Two patients signed care refusal forms on the scene, and no injuries were reported.
Police continue to investigate the cause of the crash.