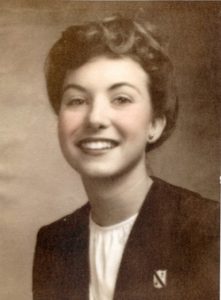 Dorothy Anne Barber, 90, of Mechanicsville, MD, passed away surrounded by loving family and friends at her long-time residence in Mechanicsville, MD on May 17, 2018. Dorothy was born on July 14, 1927 to the late James Matthew and Julia Theodora Long in Oraville, MD. She was a homemaker and a Margaret Brent Alumni member and a life-long resident of St. Mary's County. She clearly left a big mark on anyone's heart and life who met her. Strong in her Catholic faith to the very end, she was a proud long-time member of the Immaculate Conception Church and breast cancer survivor. She not only grew our relationship with her but also our relationships with The Lord. We will never forget the stories she told us about our family's history, and also, we will appreciate and hold dearly the moments we created together with her, whether it be sitting on her famous front porch, vacations, holidays, or other large family get-togethers. She always made you feel right at home and we will miss going to her home on the hill at Eldon Grove for good food, good fun, and good times.
Dorothy was predeceased by her husband, Paul M. Barber, Sr. She is survived by her sons, Robert W. Barber (Deborah) of Englewood, FL, Paul M. Barber, Jr. (Catherine) of Mechanicsville, MD; daughter, Lisa F. Thompson (Richard) of Edmond, OK; six grandchildren: Kelly Davies (Robert), Christopher Barber (Tara), Stephen Barber, Scott Barber, Rose Barber, Richard Thompson and eleven great grandchildren: Devin, Cody, Anna, Hunter, Amber, Logan, Makayla, Celeste, Ethan, Ella and Aubrey.
A Memorial Service will be held on Friday, May 25th 2018 at 12:00 at Immaculate Conception Church, 28297 Old Village Road, Mechanicsville, MD 20659.
In Lieu of flowers please make a donation to Hospice of St. Mary's, P.O. Box 625 Leonardtown, MD 20650 or online at https://hospiceofstmarys.org/ways.to.give
Condolences to the family may be made at www.brinsfieldfuneral.com