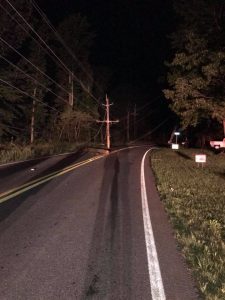 On Monday, May 21, at approximately 11:00 p.m., Police, fire and rescue personnel responded to the area of Newtowne Neck Road and Bay Brez Lane, for the report of a motor vehicle accident involving a vehicle into a pole.
Crews arrived on scene to find a single vehicle off the roadway on its side, with wires on the ground.
EMS crews transported a single occupant to an area hospital with non-life threatening injuries.
Photos courtesy of Leonardtown Volunteer Fire Department.