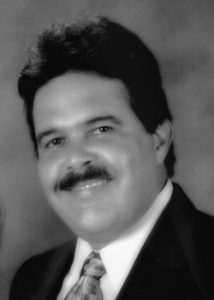 Gil Bouyett of Hughesville, MD, passed away at the age of 60, on May 18, 2018 with his family at his bedside. Gil was born on December 22, 1957 to the late Gil Bouyett, Sr. (Aida) and the late Esther Diaz (Jose Emilio) in San Juan, Puerto Rico. Gil enjoyed building model aircrafts, working on electronics, cooking and spending time with his family.
In addition to his parents, Gil Bouyett Sr. and Esther Diaz, he was predeceased by his sister, Ilia Bouyett of Puerto Rico. He is survived by his loving wife, Nancy Bouyett-Lopez; sons, Gil Manuel , Javier Alejandro, Michael Giovanni; daughter, Jeniffer Arleen Puentes (Adam ) of North Carolina; sister, Jossie Diaz of California; grandchildren, Ari and Adam Puentes; stepfather Jose Emilio Diaz of Florida; stepmother Aida Bouyett of Puerto Rico.
Gil's Memorial Service will be held on Saturday, June 2nd from 12:00-2:00 PM at the Brinsfield Funeral Home, 30195 Three Notch Road, Charlotte Hall, MD, 20622.
(Please exclude any Lilies from floral arrangements due to a family member's allergy)
Condolences to the family may be made at www.brinsfieldfuneral.com
Arrangements by the Brinsfield Funeral Home, P.A.