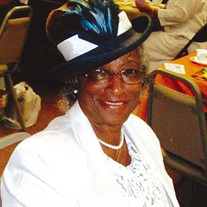 Irene Estella Hill-Harris, age 92 of Newburg, Maryland, died May 17, 2018 at Genesis Center in La Plata, Maryland.
Irene was the oldest member of Shiloh Community United Methodist Church. She was also a member of the church choir, the United Methodist Women, Warriors of Wisdom Ministry and other activities of Shiloh. She enjoyed playing Bingo, the slot machines, and traveling on bus trips. She was an angel collector and enjoyed her fish tank. She especially enjoyed cooking and baking for holiday dinners. She was known as a loving mother, grandmother, and aunt.
She was the ninth child of Guy Washington and Eliza Edmonia Washington. In addition to her parents, she was also predeceased by her husband, Lawrence B. Harris; her son, Spencer Roland Hill, Sr.; five brothers; and six sisters.
She is survived by her son, Joseph Hill, Jr.; and her grandchildren, Joseph Curtis, Corey Hill, Phyllis Hill, Spencer Hill, Jr., and Dorene Hill. She is also survived by seven great-grandchildren and eight great-great grandchildren.
Friends received on Saturday, May 26, 2018 from 9AM until time of Funeral Service at 11AM at Shiloh Community United Methodist Church, 12705 Shiloh Church Road, Newburg, Maryland 20664, officiated by Rev. Dr. Mae Harrison. Interment to follow in the church cemetery.