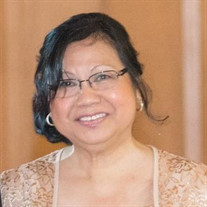 Dalisay Sta. Ines La Rocque, 65 of Waldorf, MD, passed away on May 18, 2018 at University of Maryland Charles Regional Medical Center, La Plata, MD.
Dalisay "Dahlee" was born on May 20, 1952 in Bacayao, Guimba, Nueva Ecija, Philippines to the late Conchita U. Ulip and Vicente D. Sta. Ines.
Dalisay accompanied her husband, a Foreign Service Officer, in postings to Maracaibo, Venezuela, Christchurch, New Zealand and Vienna, Austria. She was a Cultural Affairs Specialist at the American Embassy in Manila. She was the Administrative Assistant to the Director of the Law Center at The University of the Philippines and was instrumental in efforts to preserve freedom of the press, protect human rights and advance women's rights in the Philippines. She was very active in her church, The First Baptist Church of Waldorf, helping in the nursery, Vacation Bible School, Women on Mission, the hospitality committee and would often organize birthday luncheons for the women of the church "so each woman would be honored on her special day." She was a loving wife, devoted mother and caring sister.
She is survived by her husband of 33 years Stephen J. La Rocque, daughter Lara R. La Rocque, two brothers Gregorio U. Sta. Ines and Augusto Jose U. Sta. Ines, and four sisters Julieta S. Pope, Remedios S. San Gabriel, Teresita S. Medina and Corazon S. Nayve.
Friends will be received on Thursday, May 24, 2018 from 9:00AM until time of service at 11:00AM at The First Baptist Church of Waldorf, 10045 Bunker Hill Road, Waldorf, MD 20603. Interment will follow at Trinity Memorial Gardens.
Memorial contributions may be made to The First Baptist Church of Waldorf, 10045 Bunker Hill Road, Waldorf, MD 20603.