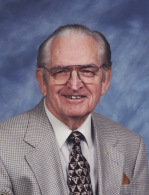 Philip Leo Schmitz, 100, of Coltons Point, MD passed away on May 24, 2018. Born on May 26, 1917 in Colton's Point, MD he was the son of the late Ida Wilhelmina Jansen Schmitz and Edward Peter Schmitz. Philip was the loving husband of the late Ada Eleanor Faunce Schmitz whom he married on September 20, 1947 in Washington, DC and who preceded him in death on May 6, 2018. Philip is survived by his children: Thomas Philip Schmitz of Silver Springs, MD, Lawrence Edward Schmitz (Maria) of Plano, TX, Leonard Joseph Schmitz (Barbara) of Gaithersburg MD, Gregory Paul Schmitz (Bobbi) of Colton's Point, MD and Eleanor Marie Schmitz Webb (Arthur) of Clarksburg, MD, 11 Grandchildren and 7 Great-Grandchildren and sister Betty Chrysler. He was preceded in death by his siblings; Mary Deal, Loraine Swagman, and Bernard Schmitz.
He graduated from Cretin High School in 1935 and was a graduate from St. Thomas College in 1940 with a Bachelor's of Science in Chemistry.
Philip served in the United States Army from 1945 to 1946. While serving in the Army, was stationed in the Philippines, Pacific and was an investigations officer. Philip worked for the United States Government Security, FBI and Veterans Administration as a Document Examiner for 26 years, retiring in 1974. He moved from Wheaton, MD to St. Mary's County, MD in 1979. Philip was President of the American Society of Questioned Documents from 1972-1974. He was a member of the American Legion, and Seventh District Optimist Club.
The family will receive friends on Tuesday, May 29, 2018 from 5:00-8:00 PM with prayers recited at 7:00 PM in the Mattingely-Gardiner Funeral Home Leonardtown, MD. A Mass of Christian Burial will be celebrated on Wednesday, May 30, 2018 at 10:00 AM in Holy Angels Catholic Church Avenue, MD with Father Anthony Lickteig officiating. Interment will follow in Sacred Heart Catholic Cemetery Bushwood, MD. The Pallbearers will be: Leonard Schmitz, Paul Schmitz, Lawrence Schmitz, Greg Schmitz, Arthur Webb, and James Wallace. Honorary Pallbearer will be David Potthast.