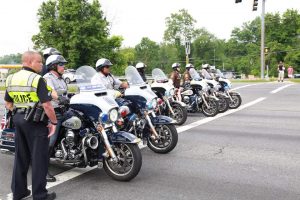 Charles County Sheriff's Office motors, along with St. Mary's County Sheriff's Office, Calvert County Sheriff's Office, Prince George's County Police Department, and Maryland National Capital Park Police motors escorted the All American Harley Davidson chapter of riders to the Pentagon for the Rolling Thunder event, during which thousands of motorcyclists ride from across the country to Washington, DC to salute military veterans and remember those who did not come home.
Once they arrived, units participated in the activities honoring the military personnel who gave their life for our country.
Afterwards, these motors officers joined other agencies and escorted a group of several thousand motors through downtown DC past the monuments and memorials.
They also got to meet Master Chief Petty Officer Britt K. Slabinski, the recipient of the nation's highest award for valor in combat, the Medal of Honor for his actions 16 years ago.
All American estimated approximately 225 riders were escorted.