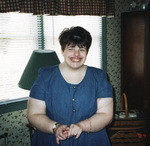 Cary Colleen Shoemaker, 44 of Leonardtown, MD, passed away on May 24, 2018. Born on May 20, 1974, in Albuquerque, New Mexico, she was the daughter of the late Richard C. Shoemaker and Ellen Jo Shoemaker. Cary is survived by her step-mother Grace Bowles Shoemaker, sisters: Erin Shoemaker of Leonardtown, MD and Kimberly Jo Brian) Guy of Clements, MD, niece: Ashley Jo Guy, and her nephews: Nick Gass, Preston Gass, Grant Gass and Austin Guy.
Cary graduated from Green Holly School in 1995. She enjoyed listening to her record player, watching the water, going for car rides and she loved drinking Classic Coke.
The family will receive friends on Wed., May 30, 2018 from 5:00 PM ~ 8:00 PM in the Mattingley-Gardiner Funeral Home with prayers being recited at 7:00 PM.
A mass of Christian burial will be celebrated on Thurs., May 31, 2018 at 12:30 PM in St. John's Catholic Church Hollywood, MD with Father Ray Schmidt officiating. Interment will follow in the Charles Memorial Gardens Leonardtown, MD.
Pallbearers will be: Ashley Jo Guy, Nicholas Gass, Preston Gass, Grant Gass, Andrew Fenwick Norman Bowles and Austin Guy. Honorary Pallbearers will be: Carol Hebb, Pam Williams, Ann Trossbach, Betty Davis, Tee Munfud and Crystal Moreland.
Donations may be made to the Leonardtown Volunteer Rescue Squad P.O. Box 299 Leonardtown, MD 20650.