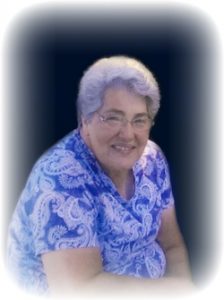 Susan Starlett Palivos, 71, of Great Mills, MD (Formerly of Chicago, IL) passed away Wednesday, May 23, 2018 at her home surrounded by her loving family.
Sue was born May 3, 1947 in Chicago, IL and was the daughter of the late John and Mary Russell.
Sue is survived by her children Jerry Gunderson of Chicago, IL and Nicole Quinn (Steve) of Great Mills, MD; her brothers: John Russell (Lynda) of Houston, TX, Roger Russell (Cookie) of Alsip, IL, and Bill DeFore (Lorrie) of Blue Island, IL; her grandchildren: Carla Pajak, Haley Barnett, Jerry Gunderson, and Olivia Quinn; and many extended family and friends. In addition to her parents and husband Nick, Sue is preceded in death by her granddaughter, Amber Rose Gunderson.
Sue enjoyed simple pleasures like playing Bingo and enjoying a nice cup of coffee. In her heyday, she was a runner up in a beauty pageant! However, nothing brought more joy to Sue than her grandchildren; Sue loved her grandchildren with all of her heart.
Visitation will be Thursday, May 31, 2018 from 4p.m. – 8p.m. at Beverly Ridge Funeral Home, 10415 S. Kedzie, Chicago, IL. 60655.
Arrangements by the Brinsfield Funeral Home, P.A., Leonardtown, MD.
Condolences to the family may be made at www.brinsfieldfuneral.com.