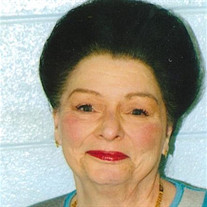 Jane Dougherty Easton, 75, of Waldorf, Maryland, died peacefully on Thursday, May 24, 2018 at the University of Maryland Charles Regional Medical Center. She was born in Fairfax Virginia on September 14, 1942 to her birth parents, Shirley Suddueth and Laura Pullum (nee). She was the oldest of six children – five girls and one boy. At the age of eight, her family split up and she lived in several foster homes and orphanages.
On March 27, 1958, she was adopted by her parents, Col. Clifford Dougherty and Virginia Ferguson (nee) in Arlington, Virginia. They had two girls and a boy of their own plus several foster children. Jane graduated from Williamsburg Jr. High in Burlington. In 1959, her family moved to Scott AFB, Illinois. She worked at the Estes Park Chalet in Estes Park, Colorado during the summer. She graduated from Mascoutah High School in Mascoutah, Illinois. In 1961, her family moved back to Arlington, Virginia. She stayed behind and attended Southern Illinois University in Carbondale, Illinois graduating in 1965 with a B.S. in Business Administration.
She met her future husband in 1963 when home from college. She worked every summer at First Federal Savings and Loan in Washington, DC. At Christmas, she worked for Johnson's Flowers in Arlington, Virginia. While in college, she worked five jobs to pay for school expenses.
In 1965, she returned to Arlington, Virginia and began working as the Assistant to the President of Staff Builders of Washington. In 1968, she was selected as the Young Career Woman of the Year for the United States by the BPW in Minneapolis, St. Paul, Minnesota.
On June 18, 1966, she married Bernard (Bernie) Easton in Arlington, Virginia. On May 1, 1969, they moved into their new home in Waldorf, Maryland. In 1970, she started to work for the Federal Government in Washington, DC. She worked as a personnel specialist at the former Department of Health Education and Welfare in the Office of the Secretary. She then moved to the White House Office of Management and Budget as a senior budget analyst, followed by a move to the Congressional Office of Technology Assessment in the Budget and Finance Office. During her career she received many awards.
In 1986, she became a Real Estate Agent with Long and Foster, Century 21, and then Re/Max 100. She was a Top Producer and a member of both the Southern Maryland Association of Realtors and Re/Max Hall of Fame. She received a great number of real estate awards.
In 2013, she semi-retired to spend more time with her beloved husband Bernie and their Scottie Dog(s), taking trips to their oceanfront condo in Ocean City, Maryland, and enjoying reading, handicrafts, and cooking as well as visiting friends and family.
She was preceded in death by her husband Bernard D. Easton; brother-in-law Leslie Easton; in-laws and her adopted parents. Also preceded by her birth family June Schotts, Barbara Manthe, and John Stancowiz.
She leaves behind her sisters Harriette (Christian) Christensen of Copenhagen, Denmark and Dianna Dougherty of Rockville, Maryland; brother Dr. Ralph Dougherty (Kris) of Tallahassee, Florida; brother-in-law Dennis Easton (Elaine); and sister-in-law Pat Easton all of Bismarck, North Dakota. She is survived by her godchildren Amanda Garner, Dr. Vanada Sood of Ashburn, Virginia, Rajni Sood-Laurent (Danny) of Mt. Ranier, Maryland and Dr. Vineet Sood (Poonam) of Greensboro, North Carolina. Also left behind are 18 nieces and nephews, a granddaughter Kylie Will, her little dog Berns, and a lot of family and friends.
Jane wanted all of her family and friends to know how important they were to her and to thank them for sharing their lives with her.
Friends will be received on Wednesday, June 6, 2018 from 2-4PM and 6-8PM EST with funeral services at 7PM EST at Raymond Funeral Chapel, 5635 Washington Avenue La Plata, Maryland 20646. Interment will take place at North Dakota Veterans Cemetery, Mandan, North Dakota at a later date.