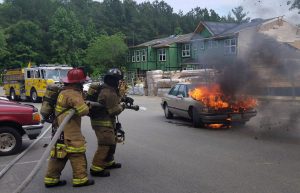 On May 31, 2018, at approximately 4:20 p.m., firefighters from Bay District Volunteer Fire Department responded to Lexwood Court, in Lexington Park for the report of a vehicle fire.
Units arrived on scene to find a Buick LeSabre in the Lex Woods Apartments parking lot with the engine compartment engulfed in fire.
Firefighters quickly extinguished the blaze and contacted the police to respond.
The occupants were able to to exit the vehicle and avoid injuries.
Updated will be provided as they become available.