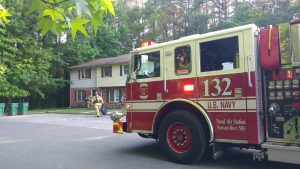 On Friday, June 1, 2018, at approximately 6:35 p.m., firefighters from Bay District, Valley Lee, and the Patuxent River Naval Air Station Fire Department responded to Missouri Avenue, in Lexington Park, for the reported townhouse fire.
Dispatch advised responding units it was a grease fire in the kitchen, with one patient with burns to her legs.
First responding units arrived on scene to discover a 2-story townhouse on Old Missouri Street, with light smoke showing.
One female victim was transported by helicopter to an area burn center for severe burns to the legs.
Updates will be provided as they become available.