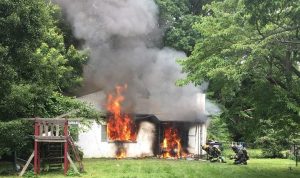 UPDATE 6/6/2018: The Office of the State Fire Marshal reports one adult sustained an injury as a result of the incident.
The fire started in the interior living area and remains under investigation at this time.
Two adults and two children were displaced and are being assisted by the American Red Cross.
The estimated damage to the structure and contents was estimated at over $250, 000.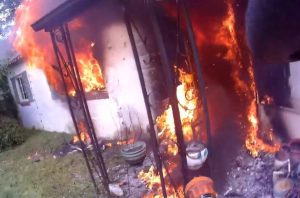 6/5/2018: On Tuesday, June 5, 2018, at approximately 5:00 p.m., Firefighters from Hollywood, Mechanicsville, Leonardtown, Bay District, responded to the 27000 Block of Barton Street and North Sandgates Road, in Mechanicsville, for the reported structure fire.
While units were responding to the scene, dispatch advised they had multiple 911 callers advising there was heavy black smoke in the area. Callers also advised two children were safely removed from the residence.
Upon arrival, units advised the house was "well off" with heavy smoke and fire showing from multiple sides.
Firefighters contained the fire within 30 minutes. A Maryland State Police fire investigator was requested to the scene, as well as assistance from Redcross for 2 adults, and 2 children.
One subject was transported to an area hospital with minor injuries.
Updates will be provided when they are available.