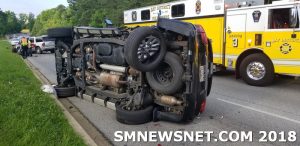 On Wednesday, June 6, 2018, at approximately 7:30 a.m., Police, fire and rescue personnel responded to Pegg Road, and Ronald Drive, in Lexington Park, for the report of a motor vehicle accident with one vehicle on its side, and people possibly trapped.
Units arrived on scene to discover two vehicles in the roadway, with one vehicle on its side, all victims were self-extricated from the vehicles.
No injuries were reported and two subjects signed patient care refusal forms on the scene.
Police continue to investigate the cause of the crash, updates will be provided when available.