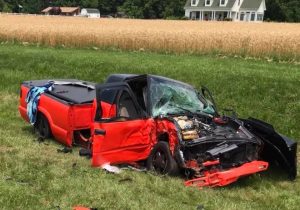 On Saturday, June 9, 2018, at approximately 12:12 p.m., Police, fire and rescue responded to Budds Creek Road, in the area of Bayside Road, in Leonardtown, for the reported serious motor vehicle accident with multiple people trapped.
Units arrived on scene to find two pick-up trucks in the roadway, in a head-on style collision, with two people trapped.
Authorities reported two patients were flown out by Maryland State Police Trooper 7, one patient was ground transported to a trauma center and a fourth was transported to St. Mary's Hospital. All four patients had serious injuries.
Police continue in incident and updates will be provided when they become available.
All photos courtesy of Leonardtown Volunteer Fire Department.