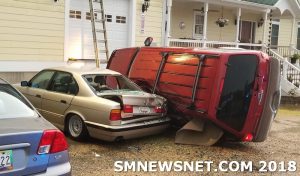 On Sunday, June 10, 2018., at approximately 7:50 p.m., police and rescue personnel responded to Point Lookout Road, in the area of Willows Road, in Park Hall, for the reported serious motor vehicle accident with one vehicle overturned.
Units arrived on scene to find a single vehicle overturned off the roadway, in a driveway, resting on an unoccupied parked vehicle, with the driver out of the vehicle.
The driver was traveling on Willows Road, prior to the accident.
The driver/single occupant who was uninjuried, signed a patient care refusal on the scene.