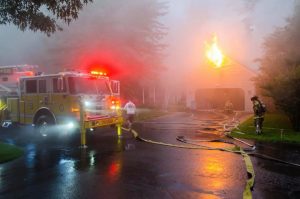 On Sunday, June 10, 2018, at approximately 7:45 p.m., firefighters from Bay District, Hollywood, and Patuxent River Naval Base responded to the 22900 Block of Cypress Drive, in Wildewood, for the reported structure fire.
Crews arrived on scene to discover smoke and fire showing from the attic area of the residence. After investigating, crews discovered a fire in the attic with possible extensions.
Crews had the fire under control and extinguished in less than 30 minutes, and Redcross was requested to assist two adults and one pet.
No injuries were reported and the cause of the fire is believed to be from a lightning strike.
Updates will be provided when they become available.
Photos courtesy of Hollywood and Bay District Volunteer Fire Departments.