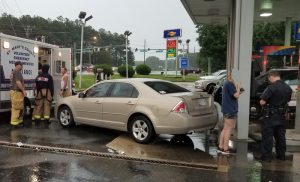 On Sunday, June 24, 2018, at approximately 5:30 p.m., police, fire and emergency medical personnel responded to the Hermanville Sunoco on Three Notch Road for the report of a male passed out in a vehicle at the gas pumps.
Emergency personnel arrived on scene and found the male unresponsive and suffering from an apparent overdose.
They were able to revive the male with a two doses of naloxone and transported him to MedStar St. Mary's Hospital for treatment.
The St. Mary's County Sheriff's Office is investigating.