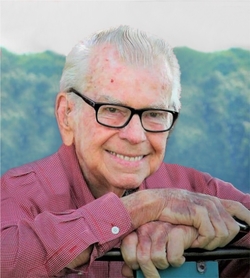 William Lee Callaway, 90, of Tall Timbers, MD passed away on June 23, 2018 at his home surrounded by his loving family.
He was born in Great Mills, MD on April 20, 1928 to the late William Levi Callaway and Mary Olive Coppage.
William attended the University of Maryland and was a member of Phi Kappa Sigma. He later completed his degree in Business Administration, with a concentration in Accounting from Strayer University in Washington, D.C. He served in the United States Army from June 1943 to his honorable discharge in June 1945. He served in Germany during World War II. He married his beloved wife, Lorraine Louise Callaway. Together they celebrated 57 wonderful years of marriage, until her passing in July 2012.
He began his career as an accountant with the National Broadcasting Company and by 1963 was promoted to Management. He was one of the first 15 people to be hired to work when COMSAT was established by President John F. Kennedy. He was employed for over 30 dedicated years as the Vice President Accounting Administration until his retirement on May 30, 1983. After retirement he partnered with his son, Greg, and developed Callaway Village Center. Callaway Village is where he was born and raised and he was proud of his heritage. He has spent the last 20 years working side by side with his son and was proud of the legacy they have built.
He enjoyed flying and earned his private pilot's license. He enjoyed working and meeting new people to share wonderful stories with.
William is survived by his children: Greg Callaway (Dondi) of Callaway, MD, Scott Callaway (Karen) of Newbury, MA, Linnea Jewell of Reva, VA and Lisa Callaway (Donna) of Baltimore, MD; 13 grandchildren; one great grandson; and many extended family and friends. He is preceded in death by his wife and parents.
Family will receive friends on Friday, June 29, 2018 from 5:00 to 8:00 p.m. at Brinsfield Funeral Home, P.A., 22955 Hollywood Road, Leonardtown, MD 20650. A Funeral Service will be celebrated by Pastor Jonathan Blanke on Saturday, June 30, 2018 at 11:00 a.m. at Trinity Lutheran Church, 46707 S. Shangri-La Drive, Lexington Park, MD 20653. Interment will follow at St. George's Episcopal Church Cemetery, 19167 Poplar Hill Lane, Valley Lee, MD 20692.
Serving as pallbearers will be Matthew Callaway, Francis Berry, Chris Gilmore, Ty Adams, Ross Jewell and Billy Bookwalter.
In lieu of flowers, memorial contributions may be made to Valley Lee Volunteer Rescue Squad, P.O. Box 1, Valley Lee, MD 20692 or St. Mary's Animal Welfare League, P.O. Box 1232, Leonardtown, MD 20650.
Condolences to the family may be made at www.brinsfieldfuneral.com.
Arrangements by the Brinsfield Funeral Home, P.A.